Last night County Judge Clay Jenkins went over the contents of a shelter in place order that goes into effect tonight (3/23/20) at 11:59 pm.  The basis for the order is to prevent an overrun of North Texas hospitals and the projections are here.  Hopefully we never get there.  The complete text of the order can be found here – Dallas County Shelter in Place (thanks to Texas Tribune) and covers a wide range of items from appropriate social distance to what businesses are deemed essential.  Here is what business owners and employees need to know:
This applies to individual who reside in Dallas County and work in Dallas County – Yes, it applies to employees even if you don't work in Dallas County but reside in Dallas County;
It goes into effect tonight at midnight and ends April 3 (for now);
If you can work from home/telework this does not apply to you or your business;
This doesn't apply to restaurants that provide take-out or grocery stores, drug stores etc.; and
This doesn't apply to Essential Businesses.
Does your company/employer fall within an essential business exception?  Let's walk through them:
Essential Health Care Operations (pretty straightforward)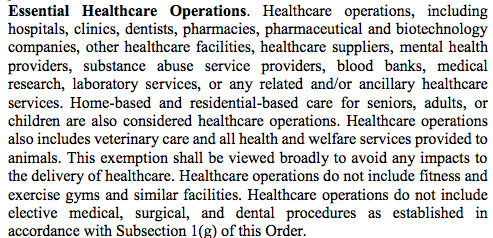 Essential Government Functions
Essential Critical Infrastructure (airports, oil, construction, public transportation etc.)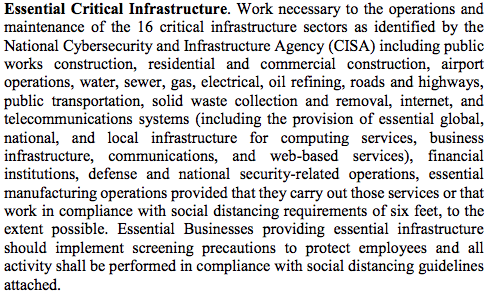 Essential Retail (food stores, takeout, gas stations, dry cleaners etc.)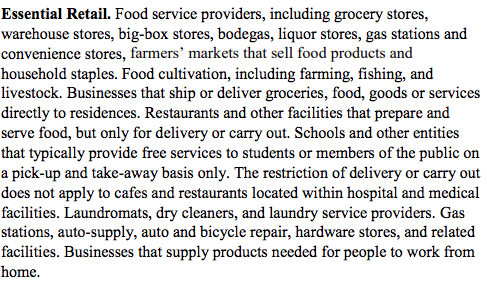 Providers of Basic Necessities to Economically Disadvantaged
Populations
Essential Services Necessary to Maintain Essential Operations of Residences or Other Essential Businesses.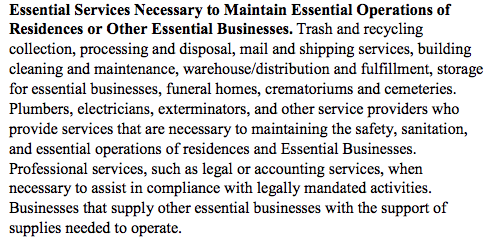 Newsmedia (self-explanatory) 
Childcare Services (services for parents of children who are working for an Essential Business)
It remains to be seen whether other North Texas counties follow suit as called for by Judge Jenkins.  Tarrant County declined to adopt similar orders last night and neither Collin nor Denton are there yet.  We will continue to to monitor the situation.  We expect there will be lay offs to follow as many small businesses will be unable to make payroll if they are not in business.